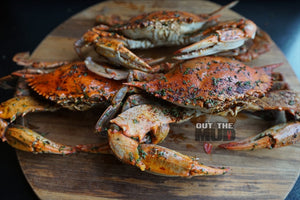 *The Gulf Box is recommended as the perfect gift to family, friends, or associates. The Gulf Box is a special design of our Boil In A Box. It comes with: 7 Lbs or 10 Lbs Blue crabs. Very satisfying Order for 1-3 seafood lovers.  
The Gulf Box will certainly enhance birthdays, anniversaries, and graduations.
Houston and surrounding areas, Your order will be delivered HOT on the designated day.
For purchases more than 50 miles (outside of Houston). Your order will be prepared fresh and shipped Chilled via UPS Next Day Air to the desired destination. 
In order to ensure that all of our products are delivered at peak freshness, we only use premium shipping options. Please be aware this may incur a premium shipping cost.
All shipping orders will arrive on Friday,  Saturday is currently for local delivery only!
 If you have any further questions, please feel free to contact us at 318-471-4410.